Be part of Team Picote!
Wanted! Technical Trainer – Phoenix, AZ
As a Technical Trainer you will be part of our experienced global training and support team. You will use your passion for supporting, training, and educating others on Picote products and methods. Acting as the first line of technical support to resellers and customers, you will be there to support them in finding the right Picote solution and usage to help with their project needs. You will connect with resellers and customers to address these questions and resolve issues through multiple channels including phone, e-mail, chat, social media etc. This position is part of the global technical team and is responsible for providing training and technical support to Picote resellers and end customers in North America and elsewhere as needed. Training and support will be provided at the Arizona training center as well as customer locations. This position reports to the Technical Training Manager and works with Picote's Global Technical Team.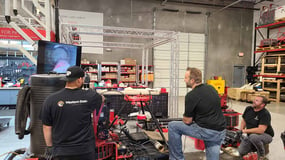 Primary Responsibilities:
Conducts hands-on training programs to educate resellers and customers on the setup, use, and maintenance of Picote's innovative trenchless rehabilitation equipment.

Fielding and answering technical support phone calls and emails from resellers, customers, and internal team members.

Training center equipment and materials setup and teardown.

Tradeshow attendance (+3 per year).

Domestic and International travel required.

Other duties and projects as needed.
Preferred Experience:
5+ years of jobsite experience in CIPP, drain cleaning, or trenchless industry.

Experience training others (trenchless industry experience a plus).

Strong communication skills and comfortable speaking to crowds.

Good organizational and time-management skills.

Working knowledge in MS Office.
Qualifications:
Valid driver's license required.

Able to perform physically demanding tasks and lift over 50 pounds.
Benefits:
Excellent benefits package provided including employer matched retirement plan option.

Fast growing company which offers the ability for professional growth and development.

Be part of a well-known, international company with a strong brand which is constantly innovating exciting new technologies and solutions.



Who we are:
Picote Solutions is a worldwide leader in trenchless rehabilitation products that are distributed through a growing network of dynamic resellers worldwide. Our mission is to ensure the continued growth of Picote by providing training and support to these resellers and end customers through our teams located in the US, UK, and Finland. We started as, and still are a long standing trenchless pipe rehabilitation services company in Finland. Because our Service teams are doing this type of work on jobsites every day in Finland, we are always innovating, field testing, and producing new products and solutions that we then offer to plumbers and trenchless rehabilitation contractors around the world. Our new training center in Phoenix, AZ continues our tradition of providing unparalleled support and training in the ever growing trenchless rehabilitation market.
Please email your Resume to Dave McArthur: dave@picotesolutions.com
Fill out the form
Please fill out this form to start your application process.