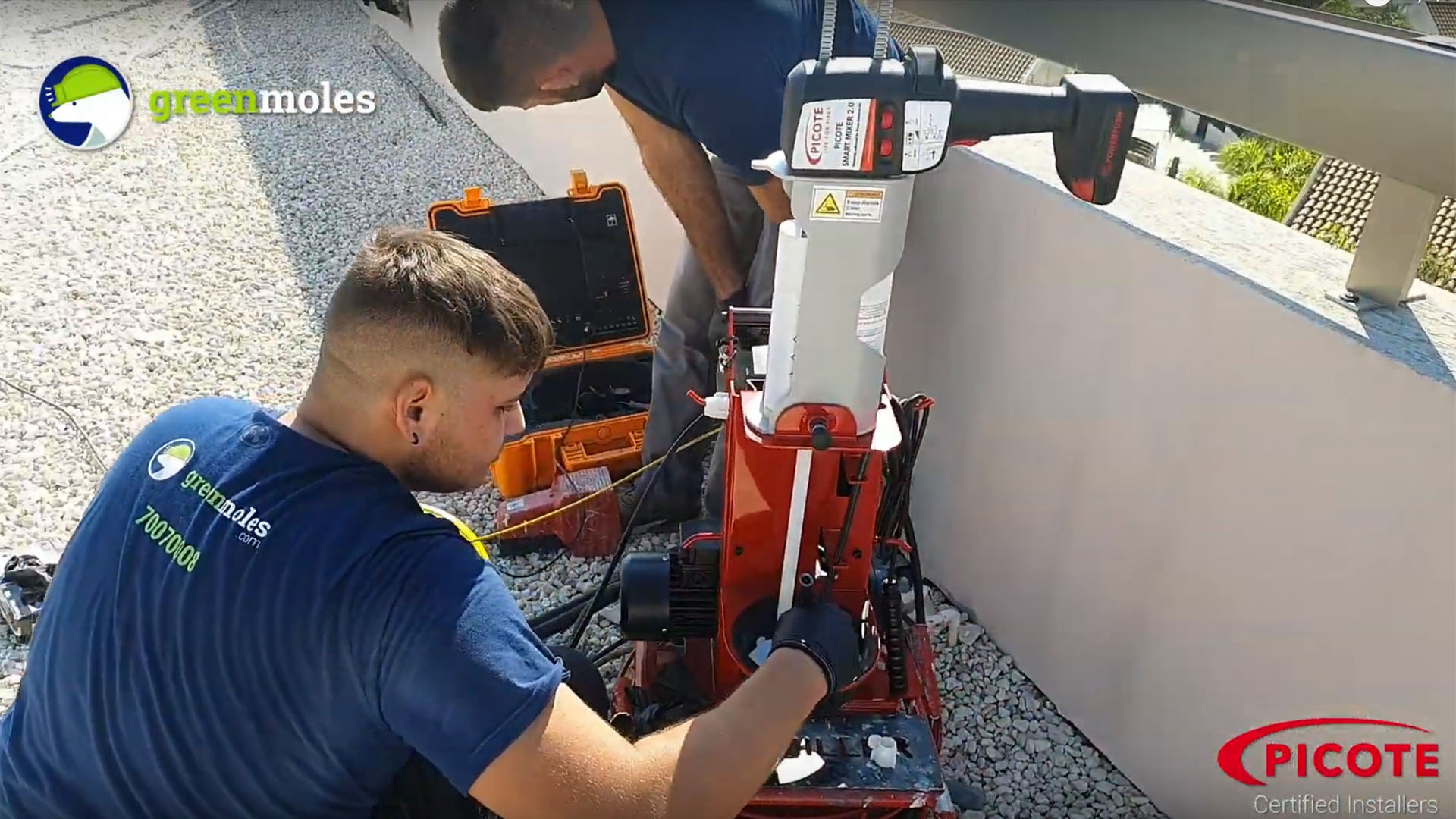 Limassol, Cyprus
Picote Solutions Partner Green Moles
Picote Brush Coating™
in 14 Roof Drains
Location:
Limassol, Cyprus
Work:
Drain cleaning
Picote Brush Coating™
Introduction
In 2020 Green Moles won a contract to find a renovation solution for 14 rainwater drains in a multi-storey residential building in Limassol, Cyprus.
The internal inspection of the roof drains showed defects in every pipe, including blockages, many holes from screws and faulty joints.


Issues and Challenges
All drains were installed inside reinforced concrete pillars, leaving no option to simply dig and replace.
Every roof drain had branches connected from the balconies of each floor. All balcony drains had built-in traps and grilles under the floor tiles.
To line the pipe would require digging out the traps to open direct access to each drain pipe and reinstate connections to the stack. This could cause significant disruption.
In addition, the building had just undergone a major and expensive renovation involving the installation of thermal insulation to the external walls. It would have been unsightly to install external drains.
Implementation
Thanks to the small size and low weight of the Mini Millers and Picote Brush Coating™ equipment, it was possible to lift them to the top floor using the small elevator of the building. From there they were manually carried to the roof from the stairs.
Two teams with two Picote Brush Coating™ systems were engaged in this project to enable completion as quickly as possible. The weather forecast announced heavy rain in the upcoming days and so the clock was ticking!
Day 1: One crew unblocked and cleared all 14 drains of debris and other material. They used Picote PVC Chains which are the most suitable for work in fragile pipes.

Day 2: All 14 drains were abraded using Mini Millers and Picote Smart Cutter™ to prepare the pipes for coating.

Day 3, 4 & 5: Picote Brush Coating™ begins! Teams applied 2-3 layers of epoxy resin in each drain. CCTV inspections followed each layer to ensure even coverage. The Dual Colour 100% Solids Epoxy made it simple to visually verify any spots that might have been missed. The Smart Mixer 2.0 ensured a simple and mess free application with minimal waste.
Benefits
Quick delivery and short project duration
Lightweight equipment for access
Cost-saving trenchless repair avoiding damage to newly installed insulation
No disruption for the residents