Andy Kibblewhite - Senior Technical Trainer, Whitburn
"Our R&D team really did us proud with these! The reworking of the Mini Miller & Mini Cleaner design to go cordless means we now have the next generation of Picote. To integrate this new style of battery, they took the heart of the original Miller we know and love and made it even better.
"Both models give satisfyingly smooth power delivery and it's so easy to adjust the speed to match the job"

-Andy Kibblewhite
The convenience of cordless is such a time-saver. I hate the faff of cables and searching for wall sockets but the real treat, for me, is the refined and programmable control box. It gives a clean, synchronised transfer of power and as a result, fewer clutch cut-outs. I liken it to the ABS in your car, or traction control, it just feels better."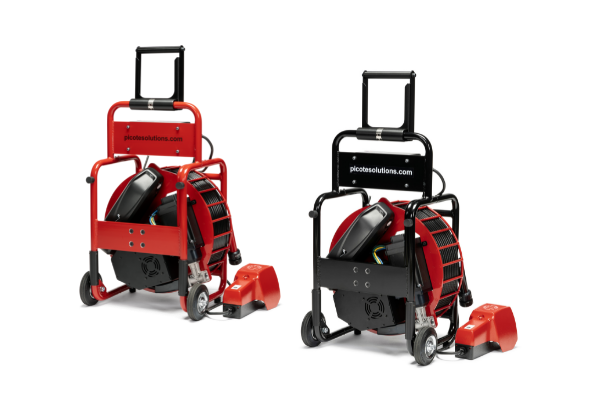 Richard Swan - Director of Technical Client Services
"These machines are just awesome. The dedicated new brushless motor, angle gear and electronic control box are really well suited to the needs of the Miller. The old mechanical clutch has also been replaced with an electrical cut-out. All of this makes the transfer of power from motor to shaft impressively smooth! It really does work in harmony meaning fewer cable kinks, even if the cable is a little further from the Miller's reel.
"This outperforms anything else on the market."

-Richard Swan
The battery is seriously good too. Not only do you have the obvious advantage of no cables and transformers to carry around, but the machine is also well balanced and easy to manoeuvre. The power is easily strong enough to run the 4-panel Smart Cutter™ with the XT Panels! This opens up all sorts of possibilities. The only thing this model and the original have in common is the frame."
Dan Holmes - Technical Trainer, Sandhurst Training Centre
"I really wasn't convinced that a Battery Mini Cleaner would have enough power. I must admit to being very surprised. This machine is impressive! The charge time is reasonable and we were running it in tests all week and we still weren't able to flatten the battery.
"This machine is impressive!"

-Dan Holmes

This is a powerful machine that will be so convenient, especially for multiple unblock or cleaning jobs in pubs, for example. Not having to seek out a power source each time will really speed up the work and enable the guys on the ground to add another job into each day!"

Left to Right: Dan Holmes, Andy Kibblewhite and Richard Swan

at the Picote Training Centre in Sandhurst, UK