Developed specifically for the CIPP market, the Picote Midi Steamer is a breath of fresh air for the trenchless and in-house pipe renovation industry. While some steam units on the market have been adapted from existing technology to fit our industry, the Picote Midi Steamer has been developed specifically for curing Patches, Connection Collars and CIPP linings (up to 21m/70' of DN100/4" lining with an ambient temperature of 19°C/66°F, see our testing results below).
What's so great about it?
Designed-for-purpose, CIPP-specific design means you don't have to settle for less

It's very easy to use: set the desired temperature and pressure in seconds

The compact size (only 59cm/23.2" high) and sturdy handle make the unit easy to move into position

The Midi Steamer regulates itself, maintaining the settings with no further input from you

Use with the Picote Cannon, or inversion drums for CIPP linings, patches or the Connection Collar System.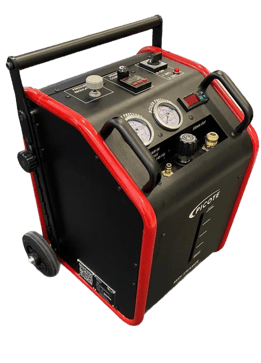 Powerful high-quality components ensure that the temperature and desired pressure level is reached very quickly, no long wait times for it to reach the optimal temperature or pressure

It's not just for short sections of lining or patches, check out the test notes below!

There is no need to manually open and close any valves to regulate the pressure, the Steamer sensors regulate the steam and air flow mixture automatically!
Setting up the Midi Steamer to your desired settings is really fast, no further adjustments are needed. This has been a frustrating aspect of traditional steaming units
You don't have to fill it up so often, thanks to the high quality components and design the Picote Midi Steamer is very efficient, using less water and less power than other steam units on the market
"The most important thing for me is that the Midi Steamer gives you a sense of CALM, the time you don't have to spend setting it up to get the pressure & temperature right, you can use to focus on perfecting your CIPP installation."

-Mikko Saarijärvi, Technical Consulting Manager at Picote Solutions
Our R&D Team have been testing the Steamer since its development and we are pleased to share some findings with you HERE.